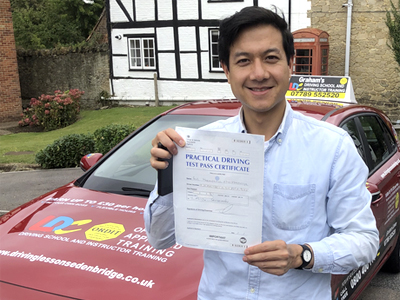 Paul Chanthapanya
I'm hugely grateful for Graham's guidance and persistence to help me pass my test. From the first lesson, it was clear to see his passion for helping individuals to develop and improve their driving skills. One of the biggest areas I needed to improve was to do with my decision making process. Being naturally over-analytical, I was often overthinking situations which led to hesitant or unsafe choices. This trait was strongly embedded in my driving approach, and was a major hurdle in my ability to drive well. He helped me to devise effective strategies to overcome this trait, which gave me the confidence to pass. I'd highly recommend Graham to anyone else looking to pass their test.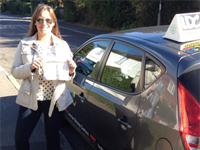 Joanne Wilkinson
Passed 1st time with 2 minors
I thoroughly enjoyed my driving lessons, they were a brilliant experience for me! I was pro-active and studied my LD Workbook and watched the DVD before each lesson, which prepared me and built up my confidence. Graham and I discussed each completed lesson, what I felt confident in, what I didn't, what we would do in the next lesson and coping strategies for my nerves. I found Graham's instructor style really suited me and we built up a good tutor/learner relationship. Graham's teaching style pushes you to think and drive independently, to go with your gut, but giving you the driving skills to be able to do that. I felt that I sailed through my lessons and test and I couldn't have done that without Graham. I highly recommend him!! A huge Thank You, learning to drive has opened a whole new chapter for my future.
Sophie Bruxner-Randell
Motorway Lesson
I took a 2hr motorway lesson with Graham & it was so helpful. I passed my test a few years ago with another instructor but did not realise how much I still didn't know, especially with regards to motorways. Graham had a fantastic approach to teaching & really tailored the lesson to what I personally struggled with. I am now so much more confident with motorway driving & learned so many new skills, even after 2 years of driving. I would absolutely recommend Graham to anyone who's going to be driving to & from Uni regardless of how much you think you know.
Olly Alkhersan
Passed first attempt with me
I cannot tell you how pleased I am to have passed my driving test today! I cannot thank Graham from LDC enough for his time, patience & guidance in each of my lessons. I was not confident about driving at all to start with having moved to a new area, Graham has given me the skills in such a brilliant way, at my own pace & now I am a qualified driver!!!! Thank you Graham, I really appreciate all your help Olly
Craig Duranti
Passed on his 1st attempt with me
I started learning with Graham after failing a test in quite dramatic circumstances which really knocked my confidence. Graham was not only a great teacher but he got me mentally prepared for my test which was the most important thing. I passed on my first attempt with him & would highly recommend Graham to anyone learning to drive.
Kathryn Bancroft
I spent more than a decade persuading myself I couldn't drive (and being too afraid to even try), but a lifestyle change in 2015 meant the ability to drive became necessary. I have to admit I was a reluctant pupil! After researching local instructors I selected Graham due to the format of his lessons and his proven track record with helping anxious drivers like me. I opted for the 30hr semi-intensive course, accompanied by a few additional lessons immediately before my test date.His methodical & incremental format of teaching suited me well. We used the accompanying DVD, workbook & reflective diary so I could prepare between lessons. That preparation time helped me to gradually combat my fears and ensure there were no unexpected surprises during the lessons themselves & I entered each lesson feeling ready for the next challenge. Graham's relaxed & reassuring style helped me to grow my confidence and feel more assured about my decision making on the road, even when I doubted myself Graham always highlighted the positive to help me see the progress we were making. I can't believe I've passed my test now, I'm totally delighted and I know my success is testament to Graham's support and expertise throughout. We even had a good laugh along the way too!
Megan McClean
Passed 7 Minors
I started learning to drive with Graham just over a year ago. I was a bag of nerves to say the least but slowly I made progress as he encouraged me every step of the way. After a few failed attempts I was ready to give up but in November i passed & we were both very relieved as he had every faith in me. I would highly recommend Graham to those looking to succeed in passing their test.
Evrim Ozgen - Sevenoaks
Passed - 5 Minors
When I started taking classes from Graham, my confidence was damaged so badly and my morale was very low after having failed the test twice. Driving was always a scary thing for me and therefore I avoided it for years until I had no other choice but to drive. I worked with two instructors in London and in Sevenoaks before I started working with Graham. I realised what a difference teaching can make to one's driving skills when I took classes from Graham. His teaching didn't only enable me to pass the test but rebuilt my confidence. I now enjoy driving rather than thinking it as a cause of stress.
Danielle Holdaway - Lingfield
Passed - 5 Minors
I chose Graham as my instructor after having a few lessons with another instructor that I didn't have much confidence in & after my first lesson with Graham I knew I'd made the right choice. I suffer really badly with anxiety & had to cancel my first test due to nerves. Graham was amazing throughout my whole journey in learning to drive. He is very matter of fact, which I like, doesn't sugar coat anything but knows how to motivate you to do your best! When I had built up enough confidence to take my test I passed first time with 5 minors! I am very proud of myself & credit my success to Graham. Amazing instructor & I wouldn't hesitate to recommend him to anyone.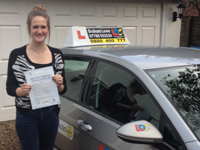 Saskia Duncan-King
Passed - 5 Minors
A big thank you to Graham, an excellent instructor. Always makes you feel safe & comfortable in the car & has a very positive attitude which helped me to feel confident in the decisions I made whilst driving, & in myself to drive independently. I really enjoyed learning to drive with Graham & would recommend him to anyone looking for an instructor.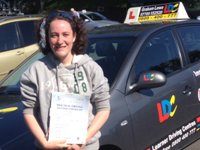 Alice Trickey
Passed - 3 Minors
I thoroughly enjoyed learning to drive with Graham. He is a truly excellent instructor. He has an incredible ability to create an atmosphere in the car which not only fills you with confidence and a belief in your own ability, but also allows you to actually learn how to drive without just being told what to do. He lets you make your own decisions; with a few carefully placed questions to get you to think about and understand what you're doing (be it right or wrong). His patience and flexibility enabled me to learn to drive at a time when I thought work would get in the way. Many thanks, Graham!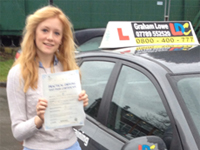 Jemima Sneddon - Dormansland
Passed 1st Time - 3 Minors
Jemima's older sister contacted me last year but due to a waiting list of 6 weeks decided to go with someone else so I was a bit surprised when Jemima contacted me to book lessons. As one of the youngest in her year Jemima was keen to get driving. Jemima was reluctant to make decisions to start with but the reflective diary helped her take more ownership of the lessons & build her confidence. This resulted in an excellent 1st time pass with only 3 minors!
Graham was a great driving instructor with a very effective way of teaching which meant that the lessons were always varied and interesting. Despite at first being slightly apprehensive when driving, his positivity made me feel much more confident and I am sure that I would never have passed first time without his expert guidance. Thanks so much Graham!
Sally Longhurst - Etchingham
Passed 1st time - 1 minor
Sally originally contacted me to book a 1 week intensive course but decided to wait until she had finished Uni & book a couple of lessons a week. Sally had some driving lessons when she was 17 with a couple of instructors but was very nervous & didn't feel she was progressing at all. On the first few lessons we worked on control & what Sally felt she needed to do to increase her confidence before going into busier situation. At times Sally was reluctant to make decisions & take control but by pushing her to do this while maintaining the safety of the situation her confidence in herself increased. The result was a fantastic 1st time pass with only 1 minor & an examiner still recovering from her scream of delight!
I never thought I would pass my driving test after having 3 previous instructors and having built up a mind block against driving, but it was fourth time lucky when I started my lessons with Graham. Whereas previously I had shied away from trying new things with driving and being allowed by previous instructors to make no progress, Graham was very encouraging and we ended each lesson having completed something new. With Graham I now feel that I have been taught to actually drive, instead of being taught to pass my driving test. I would recommend Graham to all my friends (had they not all passed aged 17..!) as his calm and patient manner twinned with his persistence that you can achieve things that seem impossible leads progress filled lessons and personal pride! I always left my lessons cheerful and looking forward to the next. Thank you so much Graham. I will remain safety critical in all my future driving pursuits!
Tracy Roe - Edenbridge
Passed 1st time
After teaching both of her sons to drive & passing 1st time, Tracy decided she would have another try at learning to drive. She had taken lessons with two different instructors before but never really felt she had full control of the car or the confidence to make her own decisions. After spending a few lessons on control, understanding what happened & why we gradually worked on getting Tracy to make decisions & increasing her confidence in them. It was a slow process to start with mainly due to her previous attempts reinforcing her own belief that she couldn't do it. However once Tracy started to believe that maybe it was possible we made good progress ending up with a fantastic 1st time pass!
Graham is a fantastic driving instructor. I could not have passed my driving test without his understanding and skill in tailoring the lesson to my personality.
Chris Toomey - Sanderstead
Passed - 5 Minors
I was recommended to Chris by his girlfriends sister who I was teaching at the time. He had only a small window of time to fit in some lessons & a test so we arranged an assessment lesson before committing to the time scale available. During the assessment it was clear Chris had the control skills required but his lack of understanding of why things should be done, along with the previous failed tests resulted it a lack of confidence in his ability & decision making. By using a variety of techniques to get Chris thinking & making decisions for himself his confidence & self belief gradually returned until by test day he way looking forward to the test! Great result but I think Mum was just as happy as she didn't have to drive you to work for the next 6 weeks!
The most important thing in a teacher is adaptability, something which Graham possesses in abundance. I am someone who has a tendency to think things through. As such, I struggled with driving with a previous instructor who insisted on prescribing a set method of teaching. I ended up having two failed tests and a mental block with both the test and a lack of belief in my ability prior to meeting Graham. Our sessions not only built my confidence but taught me to question my own actions, to consider why being a confident road user is the more intelligent way to drive, and that overcautiousness tends to have a domino effect, leading to negative results which contribute to a belief that 'you can't drive'. I can. Driving positively is entrenched in his philosophy. My problem was never with controlling the car but with the psychological aspect of road use and in trusting myself to make correct decisions. Graham is a rare man to come across as someone who both cares and is intelligent and skillful at what he does. Graham gets results because his students win the mental battle with driving before they've even set foot in the test centre. His understanding of psychology is refreshing and empowering and his teaching methods change to fit the student.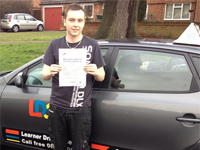 Dave Halford-Nye - Edenbridge
Passed - 0 Minors!
Dave originally started learning to drive in September 2011 but due to the arrival of his first child & moving house, his lessons were interrupted a couple of times. By October 2012 everything was sorted but now he had a long difficult train journey to work so driving was even more important. After a refresher/assessment lesson we agreed that another 20hrs would be enough & set about finishing the job we had started. After a couple of tests & a couple more cancelled due to the snow, Dave finally realised that by following my advice & slowing down his driving would improve a great deal. This was demonstrated when on this 3rd test he passed with a very rare clean sheet (0 minors) & congratulations from the examiner on an excellent drive!
I chose to have lessons with Graham after hearing nothing but good feedback! I was not disappointed, Graham made me feel at ease very early on & his teaching abilities soon showed. I felt comfortable & my driving skills began to improve, as did my confidence. After a few personal difficulties and a break from driving I resumed lessons & quickly regained my confidence. Graham is very patient & talented at what he does, & he taught me everything I could have asked for! After 2 failed tests, a little more motivation & guidance from Graham I smashed my test 3rd time round with a clean sheet, credit to Graham!! Great instructor & a top bloke!!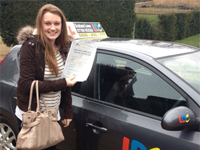 Jemima Coleman - Chiddingstone
Passed 1st Time - 3 Minors
Having taught her older sister last year Jemima's mum contacted me a few weeks before her birthday to book some lessons. As Jemima was at boarding school she had a few lessons with another instructor leading up to Xmas then booked a block of 20hrs over the holidays.
She was one of the first people to use the New LD Workbook & really seemed to find the new Reflective Diary useful. Due to her determination & preparation for each lesson, using the workbook & DVD, Jemima made great progress & also passed her theory test. We decided to book her test for the end of February half term & booked a further 12hrs leading up to it. Everything went as planned with an excellent 1st time pass, being the 1st of her siblings to pass 1st time & the 1st person in her year at school to pass was an added bonus!
Wow! Still can't believe I have passed! I would never have been able to do it first time without Graham's amazing guidance; he was always calm when I was panicking and gave me confidence in my own judgments. The reflective diary which I used throughout the process was invaluable, making every lesson specifically targeted to areas of concern. It also has really helpful instructions on every aspect of driving which I read before my lessons so that time wouldn't be wasted, ensuring maximum progress. Overall I absolutely loved learning to drive and I'm looking forward to my Pass Plus course in the summer!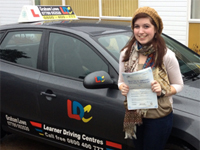 Becka Hooper - Penshurst
Passed - 4 minors
Becka first contacted me at the end of August hoping to pass her driving test before school started as she was starting her first post as a primary school teacher. Having just passed her theory & after an assessment lesson to decide if I was the right instructor for her, we decided to go for a 30hr Semi Intensive course hoping to get ready for the October 1/2 term. The pressure of a new job, trying to arrange lifts to & from work, & looking for a flat meant Becka had so much going on that at times she was exhausted before we even started the lesson. Also as a perfectionist she never felt making progress was good enough & everything had to be perfect. However we made steady progress, worked hard on the confidence side of things & after a couple of disappointments Becka got her hard earned pass with only 5 minors! The look of excitement on her face the next day when we had a lesson in her own car is what makes this job so worthwhile! I am looking forward to your Pass Plus in April & will miss the fun we had on lessons. Good luck & enjoy your freedom!
Initially I felt learning to drive was a rather scary concept and one which I had certainly put off for a few years. So naturally choosing the right instructor really was essential to my success. I couldn't have chosen better!
My lessons with Graham have been so incredibly worthwhile and enjoyable; I looked forward to every lesson! Graham's teaching is tailored specifically to your needs; insuring that you are not only ready to pass the test but you are ready for your future of independent driving.
I now feel confident and safe in my driving but also equipped to deal with more challenging situations. A massive thank you to Graham for the help, support and laughter, I couldn't have done it without you!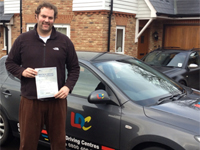 Joe McBurney - Oxted
Passed 1st Time - 3 minors
Joe contacted me as he had some free time after taking redundancy, he had driven before but not for a few years. One of the reasons he choose me was my car as he couldn't fit in the smaller cars being 6' 9'' & so I arranged a home visit to make sure it would be comfortable for him. Joe booked a 30hr Semi Intensive course & I left the LD Workbook & DVD with him so he could prepare for the 1st lesson. Despite not working Joe had just moved house, had a very young baby & was job hunting as well but found preparing for the lessons invaluable. We progressed steadily & after Joe was offered a new job in Hong Kong we both knew he only had one chance to get it right, so we booked a few extra lessons just to make sure. That turned out to be a good choice as Joe passed 1st time with only 3 minors.
Dear Graham, many thanks for getting me through the lessons & test first time. I greatly appreciated your positive attitude & honesty, something I will also take with me into my new job. 2013 - onwards & upwards! All the best & good luck.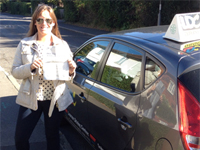 Joanne Wilkinson - Dormansland
Passed 1st Time - 2 minors
Joanne contacted me after deciding to make a career change from working in London. She hadn't driven before but was keen to get passed quickly while she still had some time on her hands. After discussing the options Joanne decided to book a 30hr Semi Intensive course but as she had no previous experience understood that a few more lessons might be necessary. Joanne made good use of the LD Workbook & DVD, was always enthusiastic & made good progress. After Joanne passed her theory we decided that a few extra lessons were needed to fine tune before the test, which resulted in an excellent 1st time pass with only 2 minors!
I thoroughly enjoyed my driving lessons, they were a brilliant experience for me! I was pro-active and studied my LD Workbook and watched the DVD before each lesson, which prepared me and built up my confidence. Graham and I discussed each completed lesson, what I felt confident in, what I didn't, what we would do in the next lesson and coping strategies for my nerves. I found Graham's instructor style really suited me and we built up a good tutor/learner relationship. Graham's teaching style pushes you to think and drive independently, to go with your gut, but giving you the driving skills to be able to do that. I felt that I sailed through my lessons and test and I couldn't have done that without Graham. I highly recommend him!! A huge Thank You, learning to drive has opened a whole new chapter for my future. :o)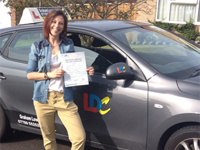 Johanna Davis - South London
Passed - 4 minors
Jo hadn't driven for about 7 years having previously failed a couple of tests & now living in London. She contacted a few instructors looking for a short course of lesson with a test before September & due to someone else dropping out I managed to fit in the 15hr Test Booster course, but without the usual assessment lesson I wasn't sure if it would be enough. Because of the tight schedule I asked Jo if she wanted to drive straight away to see how she would react & although a bit nervous she took the challenge. The first 4hr lesson was all about pushing Jo as hard as possible without denting her confidence to see where we needed to focus & by the end of it I felt confident we had enough time. 2 weeks later & after an extra hour the Sunday before just to polish the manoeuvres Jo passed with only 4 minors. Just in time to drive part of the way to Creamfields festival, so enjoy the motorway & all the London traffic.
I've had lessons with a few different instructors and Graham outshines them all… well he is the one who actually got me to pass! Graham tailors his teaching to his students, you aren't forced to learn his way, he'll help you get it the way that's best for you! He's extremely easy to get along with and makes you feel confident and comfortable behind the wheel from the start. I can't recommend him enough. The day I passed I was motorway driving at night and the following weekend I drove from Liverpool to London no problems and full of confidence. Due to Grahams thorough teaching style I felt completely prepared for the test route in a town I had only driven in for 15 hours. After learning to drive with Graham I can certainly see why the other instructors just don't quite cut it!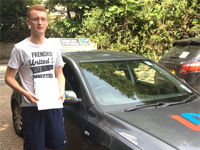 John Churchward - Tunbridge Wells
Passed 1st Time - 0 Minors
John's dad contacted me after looking at the main LDC website looking to book a 30hr semi intensive course with the hope of getting John passed during the summer holidays. John's control skills were good but he did have a few problems with his concentration. After trying various different exercises including getting enough sleep & eating breakfast we started to make progress. John had plenty of private practice & a few extra lessons on the run up to the test which paid of with a very rare clean sheet (0 minors), much to his dads amazement. Having set such a high standard you now have to live up to it & I look forward to your Pass Plus course to see if you have!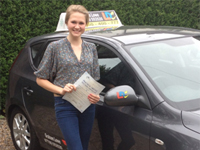 Taisy Duncan-King - Caterham
Passed 1st Time - 5 Minors
Taisy's mum, an old school friend who I hadn't seen since I was about 15, contacted me via Facebook to see if I covered Caterham & if so would I teach her daughter to drive. After a coffee to catch up on old times & to drop off the LD Workbook & DVD, we booked a 30hr semi intensive course as Taisy had already passed her theory & was keen to get driving ASAP. After the 1st lesson of 3hrs it was clear that Taisy had read the workbook & was fully committed to getting driving. We agreed a weekly 4hr lesson & I had the test booked by next weeks lesson so we had something to aim for! 8 short weeks later test day arrived & after a good last lesson a few days before Taisy gained the prize of a 1st time pass! Your reaction makes this such a great job & you were a pleasure to teach, I will miss my Thursday coffee break now :(
I'd first and foremost like to say thank you Graham! You're a fantastic instructor and I loved every one of my lessons. Working through the Workbook meant that I knew exactly what I had covered, and what was to come. Plus, with only 8 weeks I had to be pushed, but I had such a laugh in the lessons that the 4 hours never felt as long as that. You really helped build my confidence and despite the time flying by, I definitely felt prepared by the time that test day came around. Thanks again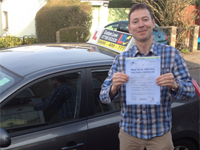 Michael Rattigan - Caterham
Passed - 3 Minors
Michael first contacted me in August last year on the recommendation of his cousin Lisa who had just passed 1st time with me the previous month. Having started lessons a few times but never getting to test Michael was determined to follow through this time & after an assessment booked a 30hr semi-intensive course. Being a teacher he appreciated the LD Workbook & DVD but also at times over analysed his driving rather than believing his decisions. This showed on his first couple of tests as he was trying too hard but when relaxed he was rewarded with an excellent pass & only 3 minors. Enjoy your driving & look forward to seeing you in June for the Pass Plus.
Graham put me at ease as a learner driver and showed a precise knack of identifying where my particular stumbling blocks lay. There was always a positive slant to any mistakes made, as his style of teaching allowed me to reflect on these oversights myself and then correct them over time. I really enjoyed the growth of belief and confidence in my own driving ability during these lessons, and Graham encouraged this in a very positive way.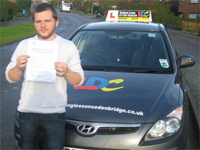 Anthony Lennard - Godstone
Passed - 3 Minors
Anthony booked a lesson on my website in August after looking around & deciding that the LD System was a better way to learn. We started off with a weekly 2hr lesson until he passed the theory test then increased to 3hrs to achieve his aim of passing before Xmas. Anthony fully utilised the LD Workbook & progressed steadily through the course, resulting in achieving his target of a 1st time pass before Xmas with only 3 minors! Enjoy not having to take the bus to work in the cold & look forward to seeing you on the Pass Plus in January.
I decided to book a lesson with Graham to see if his method of teaching would be suitable for me. About 30 minutes into my first lesson I could tell that it would. Graham is a very patient instructor and never rushed me, especially when I was having a problem with changing from 1st to 2nd. After I had passed my theory he suggested that we increase the lesson to 3 hours and after doing this the progress I made was very noticeable. I still cant believe that I passed 1st time with only 3 minors. I couldn't have asked for a better instructor and would recommend Graham to anyone. I look forward to seeing Graham in January for the pass plus. Its weird not seeing you sit next to me in the car and I can still hear you telling me to check my mirrors. Thanks Graham!
Ben Perry - Edenbridge
Passed 1st Time - 3 Minors
Ben's mum first contacted me to discuss whether Ben needed any assessment before driving as he has Aspergers Syndrome. I had no experience of this before so researched the condition before replying that he would be perfectly ok & if she wanted me to teach him I would research further to make sure I was fully aware of his needs. When Ben started lessons with me he was no different to anyone else, everyone needs to be taught in a way that suits how they learn & together we gradually developed the correct approach. I checked with Ben's mum a few times just to make sure everything was going ok & she assured me that if he wasn't enjoying the lessons he wouldn't still be doing them. Over time Ben's skills & experience developed until he was ready for his test which he passed 1st time with a excellent drive of only 3 minors. Enjoy your driving & thank you for helping me develop my skills & experience along the way!
My son Ben has a social communication problem, but he had no difficulty following Graham's clear instructions and looked forward to his weekly lessons. It enhanced his self-esteem no end to feel able to control a vehicle on busy roads always knowing that Graham was there to guide and offer advice. Graham's patient, quiet approach was ideal for Ben. Ben's own wry comment on his instructor was "He must be very courageous!"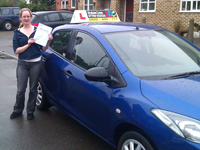 Alice Kitchenham - Edenbridge
Passed 1st Time
Alice first contacted LDC head office looking to book a 1 week intensive course, unfortunately no-one was available so I contacted her & booked an assessment lesson. From the assessment it was clear that Alice still had the control skills but lacked confidence in her control, knowledge & assessment skills. We agreed to book a 30hr semi intensive course & as I couldn't start it for a couple of weeks it gave Alice the chance to revise using the LD Workbook & DVD. We made good steady progress through the course & by the time the test came around, although still nervous Alice believed it was achieveable, especially as she had told all her friends that she would pass 1st time, which she did with a creditable 7 minors.
From the beginning of the course I told my mum that I would pass first time with only 7 minors - which I did! Graham teaches in a calm and relaxed manner, which instantly made me feel at ease whilst driving. Graham helped me build my confidence in driving and was a pleasure to learn with! The DVD and Workbook are certainly helpful tools too as they compliment the lessons perfectly. As one of my friends said - if Graham could get me to pass [first time], then you are in very good hands :)
Pamela Craig - Westerham
Passed 1st Time - 4 minors
Pamela contacted me in October, her daughter was going to start school in April so decided it was time to get her license. She had taken driving lessons before but living in London found them very stressful, so had the basic skills already. The LD Workbook & DVD helped recap Pamela's previous knowledge & clarified her understanding as well as helping her understand the new subjects. This in turn helped her gain confidence along with the skills needed to pass 1st time with only 4 minors in time to drive her daughter to school after Easter.
I was nervous when I first booked my lessons but Graham made me feel comfortable and relaxed. With each lesson he rebuilt the confidence in my own abilities and driving skills. The Workbook and DVD served as valuable tools to further my existing knowledge and understanding. I highly recommend Graham to anyone seeking driving lessons.
Thank you Graham for helping me pass first time.
Lauren Roberts - Biggin Hill
Passed 1st Time
I was recommended to Lauren by her boyfriend John who I taught a couple of years ago. Lauren had already had lessons before with a different instructor but not had any for a few months & wanted to restart lessons. She originally contacted me in August but as a surprise her Dad brought her a block of 10hrs for her 18th birthday with someone else so she had to cancel our lessons. Lauren then contacted me again in October to see if I still able to teach her as she didn't feel she happy with the instructor. After a few lessons to rebuild her confidence I suggested that we book a test & despite feeling a little nervous she agreed. The next couple of months were all about getting Lauren to make her own decisions & follow them through in order to build confidence in herself. By test day she was looking forward to the test & passed 1st time with 7 minors, 1 test less than her boyfriend & less minors than her brother! Well done & look forward to your Pass Plus in March.
Graham was a brilliant instructor, he wasn't serious like my last two instructors, he managed to make everything more relaxed and that made everything feel more natural, so that it didn't feel like I was in school again, but more like a friend just helping. I never thought I could pass first time but with Graham's help it happened. I would definitely recommend him to anyone. And now I'm actually looking forward to the pass plus! Thank you!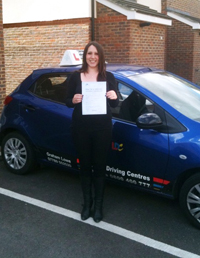 Amanda Arpino - Caterham - Passed 1st Time
Amanda's husband contacted me after a recommendation from his brother who passed 1st Time with me last February. She had just had her 2nd child & decided 2 children on public transport was not a good idea. Amanda had been having lessons before her maternity leave but now wanted to book an intensive course & get passed quickly. After an assessment lesson I recommended the 20hr Midway Pass course & by using the LD Workbook & DVD to help with her understanding Amanda progressed quickly. In the last couple of weeks Amanda got a car to practice in which also helped boost her confidence & she after beating her nerves she passed 1st time with a creditable 7 minors just in time to drive to her son's christening on Sunday!
I can't believe I passed my test!! I had spent so long worrying about it & had tried a few different instructors before I got Graham's number from my husband's brother. I really enjoyed my lessons & was amazed at how quickly my test was booked. I found the book & DVD very helpful. Thanks Graham!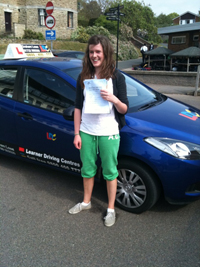 Susannah George - South Godstone - Passed 1st Time - 3 minors
Susannah's mum contacted me after looking at several companies as she liked the look of the LD system. A free home visit soon confirmed her initial thoughts & she booked a 30hr Semi-Intensive course to make full use of DVD & Workbook. Susannah also had a car to practice in & along with the lessons progressed quickly gaining valuable experience & confidence in her own car. After postponing her 1st test because of the volcanic ash, Susannah was on a school trip & couldn't get back, the rescheduled date was a resounding success with a very confident drive & only 3 minors. Due to the amount of practice she has had & her confidence we Susannah will be completing her Pass Plus course within the next week & will be ready to start driving herself to school after the ½ term holidays.
Graham was a really good instructor and had a really good way of teaching that was always positive. I felt that the LD System really helped me with my learning. The Workbook and DVD meant that between my first lessons I had something that I could do that would help my driving before my parents were brave enough to take me out to practice. Graham really helped me become confident with driving right from the start and taught me that a positive attitude changes everything and I would recommend him to anyone.
Nigel Trivass - Tonbridge - Passed
Nigel contacted me in December last year shortly after failing his 1st test. He had suffered a loss of confidence as the test had showed him that he was not quite ready yet as he still had some unresolved clutch control problems that were affecting his driving. After postponing the 1st test date we worked on his basic control skills & rebuilt his confidence from a much more solid base. Once the confidence increased along with the control everything else clicked back into place & after 1 false start Nigel gained a well deserved pass.
Graham provided me with first class tuition, and immediately made me feel at ease. As a result, I learnt fast and actually started to enjoy my driving. Graham's lessons were varied and never repetitive, and by the time of my test although nervous, I subconsciously knew that I had had mastered a sufficient knowledge of the key driving skills and manoeuvres. I cannot recommend Graham highly enough, and fully endorse his method and technique.
Eerika Franklin - Edenbridge - Passed - 3 minors
Eerika contacted me last March, after looking at a few websites she decided on LDC because of the LD System & the offer of a home visit to explain how the system works. We made steady progress & the LD Workbook helped Eerika to fully understand why things were done in a certain way. After nearly passing a good 1st test, the 2nd proved a bit more difficult to get a date for. After a cancellation by the test centre & another due to the snow, Eerika finally passed her 2nd test with flying colours & only 3 minors.
When selecting a driving instructor I was looking for someone who would be focused and not waste my time or money. Graham takes pride in his work and aims to help his students to pass in the minimum amount of lessons needed, by encouraging a proactive approach on the side of the learner, and a professional, intuitive, organised style of teaching that helps the learner to think for themselves. I was very happy with my choice and would recommend him as an effective and pleasant driving instructor.
Claire Boulter - Edenbridge - Passed 1st Time - 2 minors
Claire contacted me last summer after qualifying as an English teacher. Having lived abroad for the last few years she had decided to wait until she was back in England before learning to drive. Claire already had her own car so had lots of opportunity to practice although her own mini, being rather temperamental created some interesting challenges. The LD Workbook & LD Workbook helped with the lessons & kept the practice focussed ending in an excellent 1st time pass with only 2 minors. Hopefully you will be confident enough to drive abroad when you start you overseas teaching job in the summer!
Before I even started driving I was convinced I was going to be one of those people who would only pass on the 8th test! Graham helped build up my confidence and as the lessons went on I gradually believed that I was making progress and could see that passing the test was achievable. The LD DVD in particular was of great help to me as it helped cement things I had already done in a lesson or helped prepare me for what was in store in a future lesson. Graham helped me learn to trust myself and my skills as a driver and I would recommend him to anyone.
Claire
Daniel Atkinson - East Grinstead - 5 minors
Dan contacted me in November 2008 & booked a 20hr Mid-way Pass course. Although he hadn't had lessons for a while he had been taking lessons & tests on & off over the last 20 years. After failing his 1st test we set to work gradually correcting each of the faults & bad habits, & also trying to overcome his fear of the test it's self. This was a slow but steady process with a few more tests in between but resulted in finally gaining a well deserved pass.
Thank you for all you did to get me through the test. When we met in late 2008, the fact that I didn't drive was almost a part of my personality. It must have taken great patience & skill to dismantle that obstacle. I would recommend Graham to any learner, especially one who is trying to learn later in life. He was able to instil the confidence in me that the test, far from being an insurmountable barrier, was entirely achievable. For all candidates, I would add that Graham's attention to detail during each driving lesson gave me additional confidence.
Thanks again & very best wishes
Dan Atkinson
Libby Ashdown - Lingfield - 4 Minors
Libby contacted me after becoming disillusioned with driving & after an assessment drive it was very noticeable that although her driving was fairly good, Libby's confidence was not. Our 1st aim was to increase Libby's confidence & get her enjoying driving before even attempting to teach her anything new. Once this was achieved & Libby was looking forward to her lessons we then moved steadily through the course concluding with a good drive, passing with only 4 minor faults. All Libby needs now is a Sat Nav as she readily admits her sense of direction is non-existent!
Thank you so much for all your tuition & giving me the confidence to pass my test. I secretly thought I was going to be one of those people that takes about 9 tests to pass & then still drives dreadfully! I'll be sending you pictures of my lovely little Fiat 500 (red with cream leather) hopefully very soon. All the best for the future & thank you once again.
Libby
Rose Bowles - Edenbridge - 1st Time Pass
Rose contacted me after she had been offered a company car due to her firm's relocation. The only problem with this was that she didn't have a driving licence! Rose initially booked an intensive course over 2 weeks but it quickly became apparent that the time pressure was stopping her from progressing so we agreed to change to weekly lessons. It was a long road of 2 steps forward & 1 back but finally we agreed that Rose was ready for her test. I final few lessons on preparing for test day paid off as Rose got a well earned 1st time pass. Now we just need to persuade your boss to pay for the pass plus!
I knew learning to drive in my late 30's wasn't going to be easy & it took a lot longer than I thought. Thankfully I had Graham's expertise & patience to guide me every step of the way. He never gave up finding new ways to help me overcome any sticking points & kept me motivated right up to my test date when all his hard work paid off - I passed 1st time!
I am eternally grateful to Graham for teaching me a skill which will change my life & would thoroughly recommend him to anyone.
A big thank you Graham!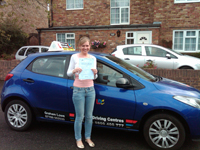 Jayne Pearce - Edenbridge - Passed - 5 minors
Jayne contacted me to restart her driving after finishing Uni & starting work. She had previously had 2 tests a couple of years ago but didn't feel she was ready so was almost pleased not to pass. Despite having quite a long break Jayne's driving skills were still very good & the LD Workbook helped her understand some of the things she was unsure of. Gradually Jayne's confidence increased to a point where her original test date was brought forward by 3 weeks. Jayne passed with only 5 minor faults & was complimented on a good confident drive! I look forward to the Pass Plus in October, M25 here we come!
I started learning to drive 5 years ago, had 2 tests then failed. I started learning with Graham and found the basics of what I'd learnt came back but I lacked confidence. Graham developed my confidence considerably. He really encouraged me whenever I doubted myself and made me prove that I could do it. Looking back I'm so pleased I passed with Graham as I feel so much more confident and now I know I can drive.
Tom Williams - Tonbridge - Passed 1st Time - 4 minors
Tom started his lessons very soon after his 17th birthday & he was very keen to be driving as soon as possible. Having explained how using the LD Workbook & DVD correctly would help him progress quicker, he took this on board & was always well prepared for his next lesson. Tom progressed quickly through the course due to his preparation & confidence, & passed 1st time with 4 minors after only 28 hours tuition.
Well done Tom & hope you enjoy driving to your cricket matches from now on!
As soon as I was 17 I was desperate to get driving, and Graham was perfect for this as he was very happy to go at the pace I wanted. So as soon as we had our first lesson, I read through the LD Workbook which gave me a much better knowledge of driving and left me well prepared for lessons, and our progression every week was great. My aim was to be driving by the summer so I could get to my cricket games easily, and learning to drive with Graham meant this was achieved! He was also very flexible with our lessons, as I quite often had Cricket training a few days a week, so I sometimes couldn't attend our lessons, but this was no problem as Graham would offer me an alternate date (usually the next day or two) so that we didn't slow down our progression, which was great for me! Thanks for all your help Graham; I thoroughly enjoyed learning with you! Regards, Tom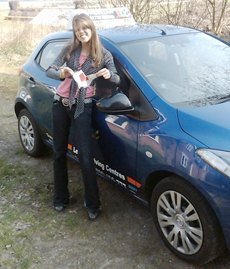 Rachel Toft - Lingfield - Passed
Rachel contacted me to restart her driving after initially taken lessons & a couple of tests at 17. Despite not having driven for a while Rachel's driving was basically sound & didn't need much work to get to test standard. Rachel however gave me a different challenge because she had decided that driving, especially the test & manoeuvres were very difficult. Eventually after convincing her she could do it & they didn't have it in for her, Rachel finally got the pass she deserved. Good luck at Uni & hope you enjoy your new found freedom, life is less colourful without you!
After a couple of failed tests it was hard not to feel like giving up but after getting in contact with Graham - I gained the confidence to believe that I could pass. Graham helped with the technical aspects of my driving as well as the mental. In this sense, he helped me realise that I could drive and that the test was achievable! Without Graham's patience I don't ever think I would have passed - I would recommend him to anyone at any stage in their driving! Thanks so much Graham!
Chris Sinclair - Dormansland - Passed
Chris contacted me before going on holiday to book a 30hr semi-intensive course as he now had some time & money. Chris had already had a fair amount of experience & bags of confidence but just needed some guidance. He made good progress & even managed to work on some more advanced techniques. Unfortunately that confidence got the better of him on the 1st test but we quickly rebooked a 2nd test which he passed comfortably. Good luck with the coaching course & triathlon later this year.
Although I had had many lessons before starting this course it was several years ago, it took me a few hours to get used to the car and my manoeuvres were awkward, however with each day that went I became more comfortable with the car and my capabilities. Learning from Graham was very easy as he always found the right way to pitch or explain what I needed to understand and being in a teaching profession myself I know how easy this is to get wrong. After the third day of the six I was still making stupid mistakes but we talked little of driving as all he needed was a question in his "I know that you know what you did wrong" voice to make me understand the problem much more by making me think about it. Over confidence was my downfall which he warned me about and as I said to him on the morning of the test it was only if I made a mistake that I wouldn't pass, which I did within the first few minutes. That said we rebooked the test, a few hours refresher just before and I sailed through as he said I would.
The lessons were fun and easy and I never thought I was out of my depth whenever we progressed onto something new.
E
When I contacted Graham I had already been learning to drive for over a year with another instructor and I had already failed a few driving tests. My confidence was at an all-time low and I felt under a lot of pressure to pass my test which made me dread driving lessons. When I started lessons with Graham things started to click, he explained things in a way that I understood and within a couple of weeks my confidence had soared. There were things that needed tweaking and I had picked up bad habits which he helped me to correct. He always made me feel comfortable and eased my anxieties about driving through tailoring his teaching to suit my needs. Within a very short space of time, I had a completely different attitude to driving and passed my driving test. Thank you Graham!